WE OFFER A WIDE VARIETY OF PALLET RACK SYSTEMS.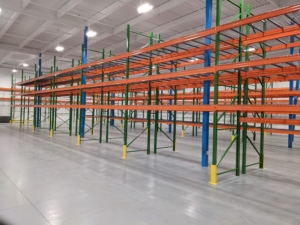 You should consider some essential factors when determining the best pallet rack shelving configuration for your warehouse. The types of storage items and inventory should be considered as different loading systems and should be matched with specific products. Food products must follow FDA regulations and use approved storage racks. Your location may also require different equipment configurations. We can help you determine the best pallet rack systems for your needs.
Drive Through & Drive In
Our drive through, or drive in, warehouse racks are formations that are capable of substantial density storage. These structures are usually steel racks and allow a suitable amount of space for forklifts to maneuver through the bays. The bays are basically a line of stacks.
Selective
The most commonly used pallet rack systems, selective racks, are accessible from the structure's aisle. Beams provide support for the pallets and the system isn't limited to one type of storage.   Standard, deep-reach, and narrow-aisle racking uses selective racks. Selective pallet racking supplies direct access to each pallet in storage. This type of racking is best used for high differentiation product lines and low turnover volume.
Push Back
Push back pallet racks allow the storage of pallets 2 to 5 deep while still retaining easy access. They provide interlocking carts that help to prevent jamming and product damage. Forklift trucks do not enter the rack. The first pallet lies on the top cart and the second pallet pushes it back to rest on the second cart.
Cantilever
Cantilever racking systems are used to efficiently store oddly sized, longer materials. These racks supply various storage solutions and are available in many different sizes and capacities. Additionally these pallet racks are fast to load and unload because there is no front column in the way. Loads can be arrange anywhere along the row.
We provide innovative solutions for all your storage and handling needs. When it comes to pallet rack supplies, all of our sales specialists and employees are knowledgeable and able to help you solve your storage challenges.
---
At CMH Industrial Systems, we supply pallet rack systems to businesses in Virginia